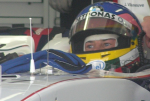 Villeneuve still in training for F1 comeback
Wednesday 28 April at 18:01 :
Apr.28 (GMM) Jacques Villeneuve on Wednesday confirmed he is still in training for his formula one comeback.
The 1997 world champion came close to returning to the grid in 2010, but the hopeful Serbian outfit Stefan GP was not granted an official entry.
"I'm pushing on anyway," said Villeneuve, who was among the 12 drivers confirmed as having been in talks with the outfit headed by Zoran Stefanovich.
Stefan GP has however reapplied for the vacant berth for next season, and 39-year-old Villeneuve on Wednesday told Germany's Auto Motor und Sport that he is working hard on staying race-fit.
The French-Canadian said he is also ready to replace a current driver in 2010, and is maintaining his fitness with the help of a bespoke EUR400,000 machine conceived by his famous trainer Erwin Gollner.
"Last year showed that teams change their drivers during a season," he said. "And the return of Schumacher and de la Rosa is a sign that experience is appreciated once again."
Villeneuve also dismissed claims that Michael Schumacher's age is his problem.
"Look at hockey," he said. "Guys in their late 30s are still at world-class level. It's because we're all living much healthier and have gained ten years."