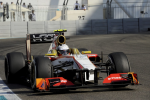 Ma Qinghua to race HRT in China next year - agent
Thursday 15 November at 11:35 :
Nov.15 (GMM) Ma Qinghua will "definitely" be on the grid in Shanghai next year, the Chinese driver's agent said on Thursday.
Ma, HRT's test and sometimes Friday practice driver in 2012, told the Fujian newspaper Southeastern Express that reports the Spanish team is for sale do not worry him.
The 24-year-old has been tipped as a potential teammate for Pedro de la Rosa in 2013, but Spanish media reports say there is a risk HRT will fold.
Ma's agent, Jin Yong, said: "No matter who the boss is, Ma will definitely compete in next year's F1 race in Shanghai."
Ma added: "No matter who will be the boss, the team is still there. So what I need to focus on now is to improve myself through training."