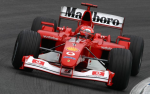 Hamilton signs $10m computer game deal
Thursday 1 November at 12:09 :
Lewis Hamilton has signed a (US) $10m exclusive licensing deal to feature in his own computer videogame in the near future.
After a debut formula one season in which he regularly spoke about learning circuits and attempting to develop his relationship with Fernando Alonso with the help of a PlayStation, the 2007 championship runner-up and rookie's deal is reportedly with American developer EA (Electronic Arts).
The British newspaper The Sun speculates that releases of the first Hamilton game will be on the "Xbox and PlayStation" consoles.
F1's exclusive video gaming rights, however, currently belong to EA rival Sony Computer Entertainment, leading to speculation about what form the upcoming Hamilton game will take. It is also suggested that the F1 rights could move from Sony to EA.
British newspapers also reveal that the 22-year-old will give his first major television interview next week on veteran host Michael Parkinson's show.