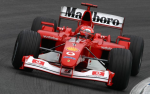 Red Bull blocked McLaren move - Vettel
Thursday 3 April at 13:59 :
Sebastian Vettel on Thursday confirmed that Red Bull blocked his chance to switch to formula one title challenger McLaren in 2008.
The 20-year-old German looks set to become a hot commodity on the driver market, following his impressive early career as a BMW Sauber test driver and Toro Rosso racer.
His contract, however, is strictly controlled by Red Bull for the next few years, and his bosses were not willing to negotiate when Mercedes-powered McLaren came knocking for a replacing for Fernando Alonso this year.
"Obviously it was a great chance, and you don't get these chances very often in life," Vettel told the British online publication Metro.
"Right now there are two teams you can win the championship with and that's one of them. But I'm confident enough that this chance will come again, with whatever team that may be. It would have been nice, but in the end I'm not sad," he added.
When asked specifically if Red Bull stood in the way of his McLaren chance, Vettel answered: "Yeah".
"But I don't think I'm being held back, I'm happy still," he added.