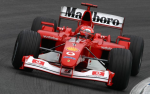 Coulthard, Fisi, eyeing A1 team ownership?
Saturday 3 May at 14:25 :
A1 GP promoter Tony Teixeira claims four members of the formula one fraternity are looking at setting up teams in his open-wheeler series.
Although refusing to confirm whether David Coulthard and Giancarlo Fisichella are contemplating getting behind Scottish and Italian outfits respectively, the South African said he would "welcome" their involvement.
The Daily Express newspaper reports that both veteran grand prix drivers are "examining the business profile" of A1's forthcoming season, which from next year will boast Ferrari-made and powered cars.
"I can't talk names, but we have had four F1 people in touch," Teixeira, in England for the finale of the 2008 series, confirmed.
"And I would welcome people like Fisi and Coulthard. We have an open door."
Teixeira also revealed that F1 chief executive Bernie Ecclestone was "totally dumbfounded" when he heard that grand prix pacesetter Ferrari was to become intimately involved in the A1 GP series, "and then offered respect for the deal".
Meanwhile, the Daily Mirror said Red Bull "dismissed claims" that Coulthard could be ousted by the F1 team this season after a spate of crashes.