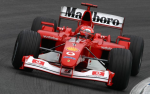 Honda become first team to test KERS system
Sunday 11 May at 15:34 :
Honda recently became the first team to track-test a KERS energy recovery system, which will be allowed in formula one from next year.
"We've run it on a car for the first time," team principal Ross Brawn told the website of the American broadcaster Speed TV.
The Briton did not say whether the system, trialled in an initially basic form, was tested at the recent Barcelona group test, or elsewhere.
Brawn said the environmentally-friendly system, which stores braking energy that is then re-released under acceleration, was tested at "not a very high level, but we've got it functioning".
The forthcoming introduction of KERS has been controversial, with some teams (unsuccessfully) pushing for a delay until 2010.
"That's inevitable," Brawn continued, conceding that - in a climate of needing to reduce costs in F1 - the voluntary deployment of KERS is proving very expensive.