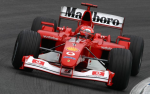 Struggling Kimi buys new 10m euro boat
Thursday 4 September at 12:35 :
Reigning world champion Kimi Raikkonen, who is currently struggling for form with the 2008 Ferrari, has bought yet another luxury yacht, according to a report in the Spanish press.
The national daily Sport claims the 28-year-old driver's new toy is a 33 metre Sunseeker Predator 108, which reportedly cost the Finn 10 million euros.
Raikkonen's boat, with a customer interior ordered by Kimi and his wife Jenni, apparently has four cabins with bathrooms and a Jacuzzi on deck.
Intriguingly, amid criticism of Raikkonen's disappointing form early last season, it was reported at the time that he paid about 3.5m euros for a new 22-metre yacht.
It emerged recently in the Finnish press that Raikkonen's Sunseeker Predator 72 was then damaged when it ran aground on rocks.
Raikkonen, 13 points behind the lead of the drivers' championship, moored boats in the harbour for both waterfront grands prix this year, at Monaco and two weeks ago at Valencia.