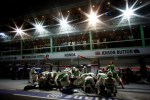 Bye bye Honda?
Thursday 4 December at 22:47 :
According to several sources Honda F1 will make an announcement tomorrow morning that it will be whitdrawing from Formula 1. Honda needs to save money because their car sales went down dramatically.
Honda F1 will try to sell its time until March. If no new buyer is found then the team will closedown its operations.
We will keep you informed!