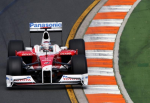 Toyota drops Trulli podium appeal
Wednesday 1 April at 10:00 :
Toyota has decided to drop its appeal against Jarno Trulli's confiscated Melbourne podium.
The Italian's third place at the 2009 season opener became twelfth after stewards ruled he illegally overtook Lewis Hamilton behind the safety car.
Trulli and Toyota argued that he only passed the McLaren "as there was nothing else I could do", and indicated its intention to appeal.
We reported earlier this week, however, that post-race 25-second penalties are usually not admissible by the FIA Court of Appeal, and that Toyota was therefore considering whether to proceed.
Last year, McLaren's appeal against a 25-second penalty relating to Hamilton at Spa-Francorchamps was ruled inadmissible by the Court.
"It is believed that any appeal will be rejected on a procedural point," an excerpt of a statement issued by Toyota on Wednesday said.
Toyota said it has therefore decided "it would serve no benefit" to lodge a formal appeal